How to use new Google Bard AI chatbot Effectively in 2023; Google Bard is a new AI technology that uses natural language to provide more human conversational answers to complex questions.
The chatbot uses Google's Language Model for Dialogue Applications (LaMDA) and machine learning to analyze large text datasets and predicts the word that comes next to the other one,
which provides the skills for Bard to communicate and generate responses similar to how humans will answer a question.
Unlike traditional search, the chatbot can answer complex questions, summarize factual topics, or create stories. It can also understand the context so that you can ask additional questions about a specific topic.
In addition, it can perform different tasks like setting alarms, making to-do lists, finding information online, controlling smart home devices, playing music, and more.
However, Bard is not intended to replace search. It's only a tool to get answers. If you want to search and find answers on the web, Google wants you to keep using its search engine.
You even get a "Google it" button to continue with a regular search.
This guide will teach you the basics of using Google Bard AI experience on Windows 11, 10, macOS, or Linux, or on Android or iOS.
Before you can access the chatbot, you have to sign up to join the waitlist.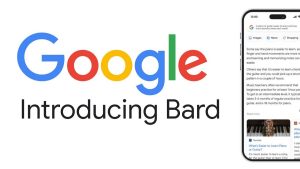 To use the new Bard chatbot from Google, use these steps:
1. You first have to open the Bard website on Chrome. Unlike Bing Chat, you can actually use Bard on any browser like Microsoft Edge or Firefox.
You don't necessarily need to use Chrome. You can also interact with Bard from your mobile device, including Android or iPhone.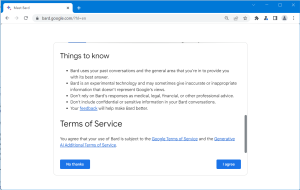 Quick note: If this is the first time accessing the chatbot, you will have to agree to the terms to continue.
2. As you open Google Bard, you will quickly notice that this is different from your typical search experience. (It's like chatting with another person in WhatsApp or Slack.)
How to use new Google Bard AI chatbot Effectively in 2023
3. Second, compose a question as you would typically ask another person in the "Enter a prompt here" box and click the "Submit" button (or press Enter).
You can ask the chatbot virtually anything and even use voice to submit a query from the desktop.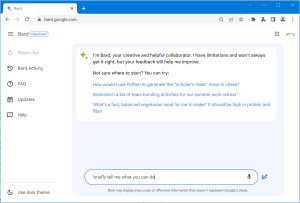 When submitting the question, you won't see the chatbot processing the information or writing the answer like on Bing.
Instead, you will notice the Bard (two sparkles) icon with a spinning animation, indicating that the chatbot is thinking, and then the result will appear.
Also, the interaction with Bard is more like a question-and-answer format instead of a conversational chat experience like when texting another person.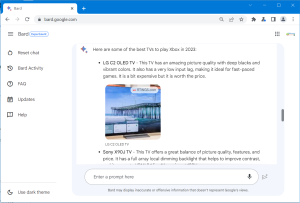 5. Google Bard is also content-aware, meaning the AI will remember your previous questions, so you can ask follow-up questions without starting over.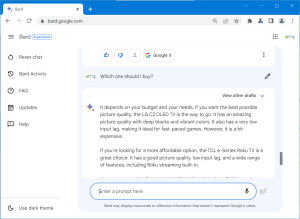 How to use new Google Bard AI chatbot Effectively in 2023
6. On the right side of the question, you can click the "Edit text" button to edit the question.
If you edit the question, click the "Update" button to submit the question, and the chatbot will answer the query again.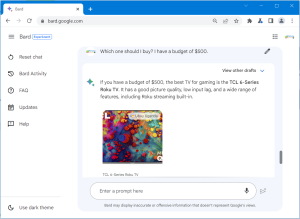 7. In the answer, you can open the "View other drafts" drop-down to reveal alternative versions of the response and switch between them quickly.
This feature will come in handy if you ask a question that displays a paragraph of text, and from the drafts, you can pick to view the answer in bullet points.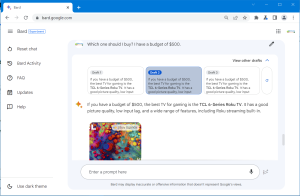 8. The "More" (three-dotted) button at the bottom-right corner of the answer opens a menu with a "Copy" option to copy the answer to the clipboard.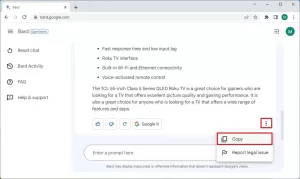 How to use new Google Bard AI chatbot Effectively in 2023
9. In the response, you will also find several options, including a thumb up and down, which you can use to rate the answer to help train the chatbot.
The "Regerate" button forces Bard to analyze and respond to the question again. Sometimes, you will need to do this to get the correct answer.
Finally, the "Google it" button will take the question and convert it into a regular search query that will then display on a Google results page.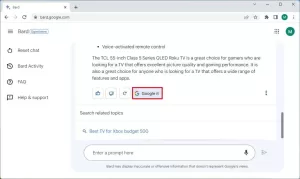 10. If you want to start a new conversation, forgetting the previous session, click the "Reset chat" from the left navigation pane and then click the "Reset" button again.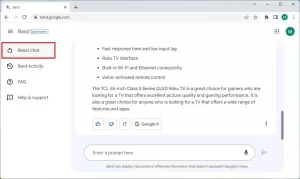 11. Google doesn't keep a history of the questions you asked, but it does store the question intent as activities.
If you want to view or delete your activities using Bard, click the "Bard Activity" option from the left navigation pane.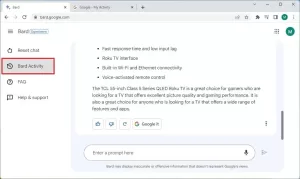 12. Then click the "Delete" (X) button for each entry or click the "Delete" menu and select the range of history to delete.
The "All time" option will erase the entire history of your activities with Google Bard.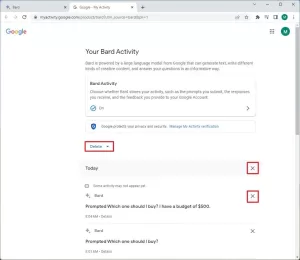 Quick tip: If you want to prevent Google from saving this information, click on "Bard Activity" and turn off the activity toggle switch.
How to use new Google Bard AI chatbot Effectively in 2023
Once you complete the steps, you will have a basic understanding of using Bard and see the difference with traditional search.
It's important to note that the new Google chatbot is not a search engine. The AI only provides answers to questions based on its knowledge, even though it uses the information from the web to respond to current and other events.
When using this service, you won't see any citations with links to the source of information. However, it'll provide a link if the answer includes a text fragment from a specific web page.
How to use new Google Bard AI chatbot Effectively in 2023
Bard is powered by the Pathways Language Model 2 (PaLM 2), which was unveiled at Google I/O 2023.
PaLM 2, a more advanced version of PaLM which was released in April 2022, will allow Bard to be much more efficient, perform at a much higher level and fix previous issues.
Bard is available in English, Japanese, and Korean. It can be accessed through the Google AI website or through the Google Search app.
Bard is still under development, and it may not always be able to provide accurate or helpful information. However, it is a powerful tool that can be used for a variety of tasks.