VIDEO CONTENT CREATION USING SCREEN RECORDING AND CAPTURE TOOLS
What is Screen Recording software?
Screen recorder, screen recording software, screencasting software, and screen capture software are different names for the same tool that lets you to record a computer screen's output.
Screen recording software can record the
entirety (or portions) of your computer or mobile screen.
The recording can include everything from your taps and cursor movements to typing a URL into your browser to help people learn what to do and how to do it.
Audio narration is available, and sometimes annotation is also offered as part of a tool's package. While screen capture tools differ in price and functionality, most share several features, such as:
adjustable video frame
cut-and-paste editing options
unlimited recording time
What Is a Good Screen Recorder?
Which screen recording tool should you use to make an effective video tutorial, create an online course, market your business to online customers, or even record a new maneuver in your favorite game?
In todays Session we shall look at a number of screen recording tools that range from browser-based software to minimalistic desktop and mobile apps. The following should be considered as you choose a better screen recorder;
Is easy-to-use
Records the entire screen, a particular area, or one window
Lets users annotate the recorded footage
Includes system and microphone audio
Captures footage from external sources
Has built-in export options
Desktop Screen Recorder vs. Online Screen Recorder
Offline functionality is the key difference between the two types.
While desktop screen recorders can work without an active connection, online screen recorders require you to have stable internet.
This is why an online screen recorder isn't the best of options when it comes to capturing gameplay. However, if you're only looking to make a tutorial, they should work just fine.
List of some of the software tools for Screen Recording and capture
Loom (Windows, Mac, Android, iPhone/iPad, Chrome)Best screen recording software for quickly recording and sharing on desktop

Best screen recorder software for mobile screen recording

Screencast-O-Matic (Windows, Mac, Android, iPhone/iPad, Chrome)

Best screen recording software for advanced video editing

Camtasia (Windows, Mac)

Best screen recording software for advanced recording tools and live streaming

OBS Studio (Windows, Mac, Linux)

Best screen recording software for screen capture when you're away from your desk

Movavi Screen Recorder (Windows, Mac)

Gilisoft Screen Recorder

Records your PC desktop at a high video and audio quality absolutely for free

Supported in Office Version 2016, 19, 21

Screen recording is the other method you may use to create videos in PowerPoint.

Great for gaming

Bandicam

A straightforward tool

Icecream Screen Recorder

Recommended for Mobile /Android

AZ Screen Recorder

Best for recording from screens, IP cameras, and webcams

Debut Video Capture

Apowersoft Free Online Screen Recorder

Best for .webm exports

Best for: Adding a professional touch to captured videos
Free Vs Paid Screen Recorders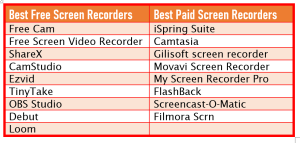 Conclusion
Screen recording software can serve a variety of purposes, and the best ones don't necessarily need to come at a price.
Based on your individual needs and the operating system you're using, you may be able to achieve your objectives with a free screen recorder.
And if you're looking to add additional power or use professional editing tools, you can always sign up to a paid option.
Hopefully, one of these screen recording programs will fulfill your requirements, whether you're creating a tutorial for YouTube or just sharing a gaming achievement with your peers.